If you haven't figured it out already, i'm a complete nerd. A dork, a geek, a twisted freak of nature who's utterly and completely obsessed with all things gaming with a sprinkle of reading and crafting thrown in. For those who missed Saturday's post, Every Wednesday is now dedicated to my nerdly obsessions.This week, we're focusing on the nerdiest craft projects that have ever hit the web, and have a close place to my heart.
We'll start with something i'm actually familiar with: Yarn!
Through my daily
stalkings
meanderings
through Craftster, i happened upon an extremely colorful purse! (And me, being the purse-whore i am, immediately hit ctrl+d...)
What's more, it's based after the board game "Settlers of Catan"! Unfortunately, i've never played this game, and up until i saw this purse i'd never even heard of it o.O So what does a girl do when she's intrigued? Wiki.
"The Settlers of Catan is a multiplayer board game designed by Klaus Teuber. It was first published in 1995 in Germany by Franckh-Kosmos Verlag (Kosmos) under the name Die Siedler von Catan. Players assume the role of settlers on the game board, each attempting to build and develop their settlement while trading and acquiring resources. Players are rewarded points as their settlements grow; the first to reach a set number of points is the winner."
Well kudos
fantasticmio
for being wickedly awesome and
creating a bag about something you love
:-D (
and
being nice enough to hand out the pattern for free!)
I must admit. I've never really been one for making potholders... when you think about it, they seem like the most boring thing to make o.O They're just squares of fabric you use to grab things out of the oven with, right? Oh boy am i wrong o.O
Adaiha
has managed to convince me with a single photo, that everything i ever thought about potholders was wrong. o.o Not only can they be beautiful additions to your kitchen theme and color scheme, but they can also be fun to make! They don't
have
to be squares (as any person on Ravelry could have told me...) hell, they can even be freakin' Celtic knots.
Lookit that! How perfectly awesome could one potholder/trivet be?? Okay, so i guess it's
technically
not a "Celtic Knot" -- as she calls it a "
woven circles trivet
" but damnit it's celtic enough for me! And i love it. Adaiha, you win an internet m'dear.
Up next, i've featured something that's been on the news a
lot
recently. The zodiac.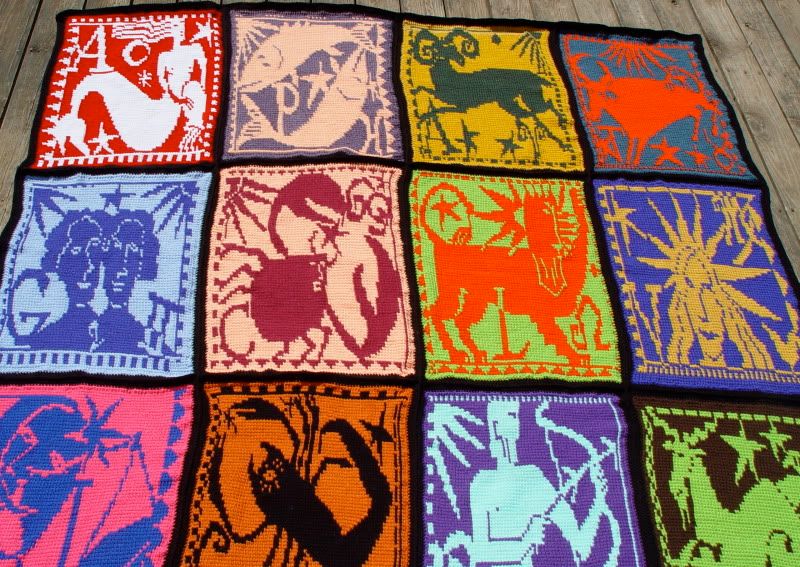 (I myself, am a Scorpio and Jim's a Leo)
I frikkin
love
this blanket/throw. Ever since i was little i've been enamored with the stars -- hell, every time i got upset or worried i loved to look at Orion's belt like it was my personal formation in the sky. (Kinda like XKCD said
here.
...) Nevertheless, i love it. Crocheted in Tunisian stitch (something i've yet to quite master with my teeny Tunisian hook...) i envy them! Wonderful work m'dear. You too, win an internet.
Though i have
yet
to actually read/play anything involving "Cthulu" i must say he's quite a character. Seen in everything from Scribblenauts, to plushies, to
tea cozies
this squid-faced behemoth has won my heart. (and probably my soul, but for such cuteness i'd probably give it willingly anyways.)
There are literally thousands of patterns for this squishy squid-guy, but these here are a few of my favorites:
And of course how can we end our yarn-craft section without a nod to the longest running game in the history of "WTF ANOTHER?" -- Final Fantasy.
Yes my friends, that is indeed the most adorable Chocobo amigurumi pattern you've ever laid eyes on -- and the lovely
phantasmafreud
has oh-so-lovingly written out the pattern for you all
for free.
You should go shower them with love and affection and promptly go
make your own
cuddly bird-buddy. DO EET.
Still yarn-related but not quite,
ammasmama
has ingeniously created a tutorial on make-your-own resin knitting needles!
I'm sure with a little bit of know-how and a few power tools you could probably fashion crochet hooks as well (Ooooh! Custom Tunisian! :-o) But nevertheless, her tutorial is genius! The ingredients are slightly toxic so gas masks are definitely a requirement, but the McDonald's straws are just perfect. Who ever woulda thought? lol. Head over to her
tutorial here
and go make your own --
But before you go sticking buttons and doodads on the backs of your newly created glitery stabbing tools, Check out what you could be putting on the ends of them instead to complete your nerdery:
Companion Cube-ry!
I myself have never really worked with canes (or clay much for that matter o.O) But these make me want to buy as many pretty shiny colors as i possibly can and cane away! Think of how many adorable Portal-themed charms you could come up with? Stitch markers? Buttons? Endcaps for the needles above? Muahahahahaha the possibilities!!
Next Week i'll be showering you all in girliness, glitter, and all things nerderiffic -- but if you have a completely dorky/gamer/geeky/nerdish project you'd love to show off, feel free to drop me an email or a comment! I'd love to see what you've got!!
-Cake42